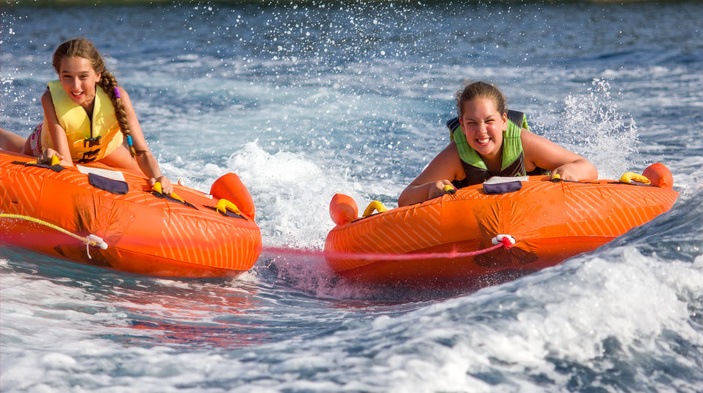 Everything You Need to Know About Tubing on Oneida Lake
There are so many ways to enjoy the pontoon boat that's included with every weeklong cottage rental at The Cove at Sylvan Beach: cruising, fishing, water skiing, and more. If you're looking for a simple water sport that anyone can enjoy, tubing is another great way to have fun on Oneida Lake this summer. There are no special skills to learn, and all you'll need to get started is a rental from Sylvan Beach Supply Co. Even if you've never tubed before, this quick guide will have your family out on the water in no time.
Start Your Day at Sylvan Beach Supply Co.
Towed tubing is a great family activity, especially for those who are new to boating and water sports. To kick off your day of fun on the lake, stop by Sylvan Beach Supply Co. and check out a selection of tubing gear. Our tubing package, one of our easy and convenient lake activity packages includes a tube, life jackets, and a tow rope – everything you need to get started! You can even reserve your package ahead of time so that it's ready when you arrive at The Cove.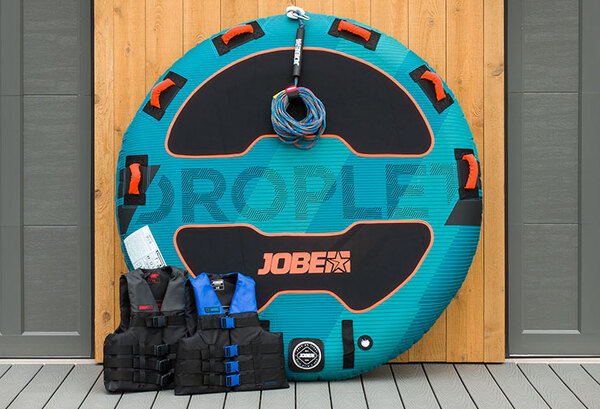 Before heading out, make sure every member of your party is outfitted with a properly fitted life jacket. Falling off while tubing is a common occurrence, and even strong swimmers are safer with appropriate personal floatation devices.
Some other items you may want to bring along for tubing include:
Goggles:

Keep water out of riders' eyes for better visibility

Gloves

: Avoid rope burn and improve grip

Rash guards:

These T-shirt-like tops guard against UV exposure and can reduce friction when in contact with the tube

Sunscreen:

Don't let a sunburn spoil your day!
Towed Tubing Basics
To get started, securely affix the tow rope to the pontoon boat and your tube. Never tow more than one tube at a time, as this can quickly lead to tangled ropes. Instead, use a multi-person tube to accommodate several riders. Wait for the rider to give the boat's driver a hand signal before taking off – you can check out the hand signals recommended for water sports in our post about water skiing for guidance. Acceleration should be slow and steady to avoid jerking the rope. The driver should strive to keep the rope above the water's surface whenever possible to avoid an uncomfortable ride. When it's time to increase or decrease speed, always do so as smoothly as possible.
It's generally recommended to base your traveling speed on the age/experience level of those being towed. Go more slowly for younger kids to help them acclimate to tubing – you can always pick up speed as they grow more confident! Be cautious about getting too close to any obstacles that might require a sharp turn, such as docks and other boats, and always avoid tubing during high winds.
You'll also want to be careful when crossing wakes. While this can make for an exciting, bouncy ride for older kids and adults, younger kids may struggle to hang on. To make the ride more exciting without taking risks, try driving the boat in an S-pattern.
Driving a boat requires your full attention, especially on beautiful summer days when many boaters have taken to the waters of Oneida Lake. That's why it can be helpful to have a spotter onboard in addition to the driver. The spotter keeps an eye on the tubers, watching out for hand signals and any signs that they may need to slow down or stop.
Enjoy a Day of Tubing at The Cove
For the perfect day of tubing on Oneida Lake, start the morning with coffee and breakfast from Sylvan Beach Supply Co., and be sure to grab sandwiches for lunch on the water. You'll find everything you need, from water sports equipment to sunscreen, snacks, and drinks to make the most of your tubing adventures.
Are you ready for a summer vacation filled with lakeside fun? Contact us to reserve your cottage at The Cove and treat your family to an unforgettable summertime getaway in Upstate New York.