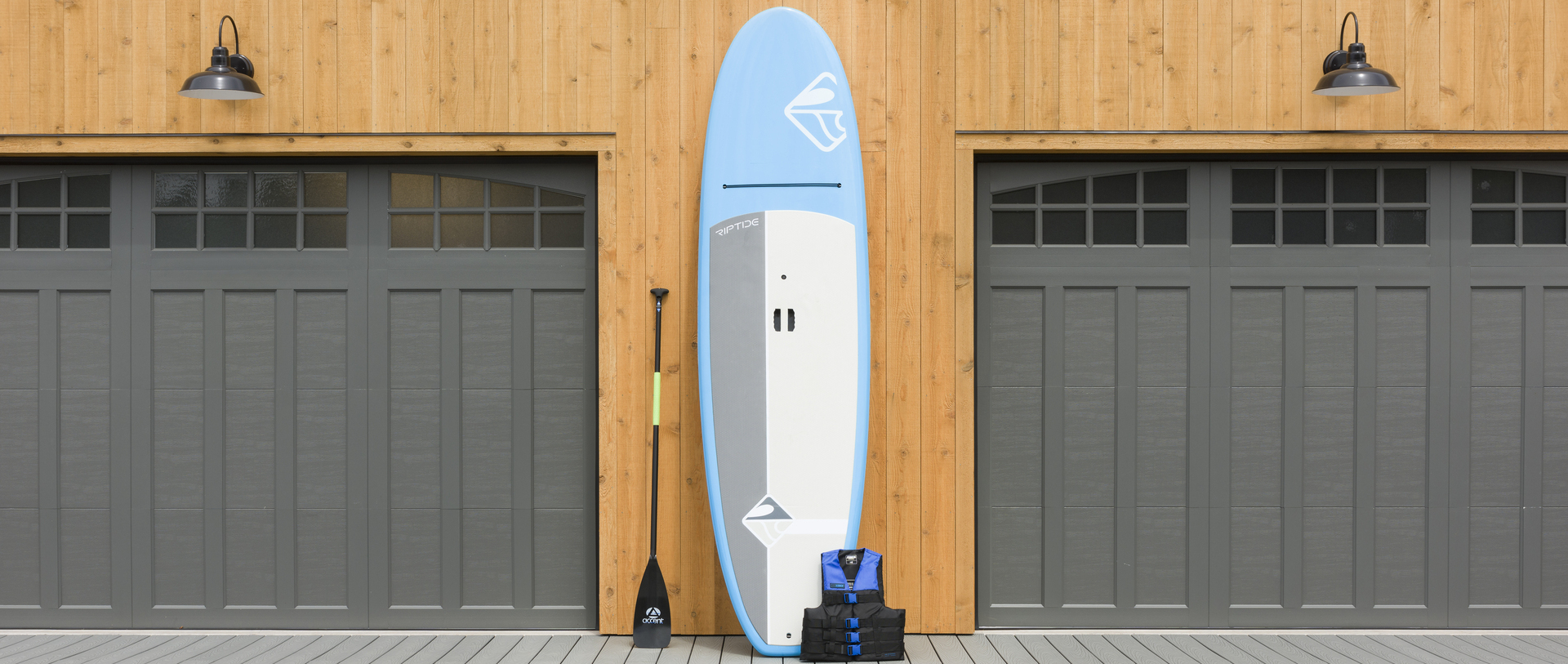 The Beginners Guide to Paddle Boarding on Oneida Lake
Summer vacation is the perfect time to try something new, especially an activity that gets you outdoors and on the water! If you've never tried paddle boarding before, your stay at The Cove at Sylvan Beach is a great time to experience this one-of-a-kind water sport that's not just fun, but also a great workout. With a few easy tips from our beginners guide, you'll be ready to rent a paddle board at Sylvan Beach Supply Co. and hit the water in no time!
Getting on Your Paddle Board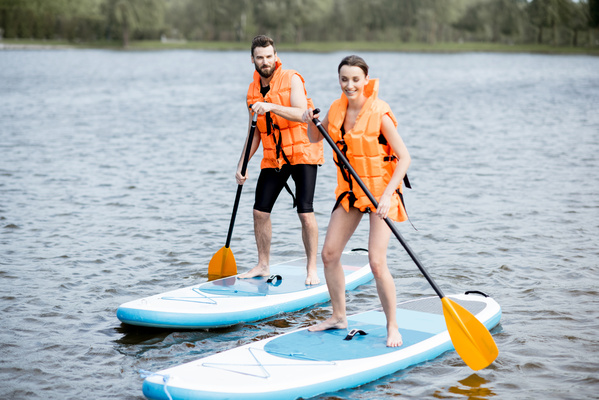 Paddle boarding for the first time at The Cove is simple, thanks to Sylvan Beach Supply Co. Just stop by our flagship store and ask about renting a paddle board, paddle, and personal flotation device (PFD). Rentals are available for one, two, four, and eight hours, and reservations can even be booked online ahead of your stay.
To mount the paddle board, stand on one side in water that's approximately knee deep. Firmly grip the board by the edges and climb on, assuming a kneeling position just behind the center point. Raise your chest and shoulders while still on your knees. Finally, extend one leg at a time, planting your feet at the width of your hips. To help find your balance:
Always stand slowly

Bend your knees slightly in a comfortable stance

Keep your back straight and your head and shoulders upright

Position your feet parallel to one another and keep toes pointed ahead

Hold your gaze on the horizon – don't look down at your feet

To reposition, move your hips rather than your feet
Remember to stand slowly at your own pace – take your time for the most secure position.
Paddling Pointers
Your paddle makes it possible to glide across the water, and it's essential for slowing down and turning direction. To make navigation easy, keep one hand at the top of the paddle's handle with the other on its grip. Place your right hand on the grip and left hand at the top to paddle on the right side and reverse both hands to paddle on the left side. The blade of the paddle should always angle forward toward the nose of your board and forward from the shaft.
As you move, remember that your arms don't have to do all the work. Rely on all of the muscles in your core to produce smooth, steady movements. You may start feeling fatigued quickly – after all, paddling is an incredible full-body workout. That's why we recommend no more than an hour for your first session and building up slowly throughout the week.
Paddle Board Navigation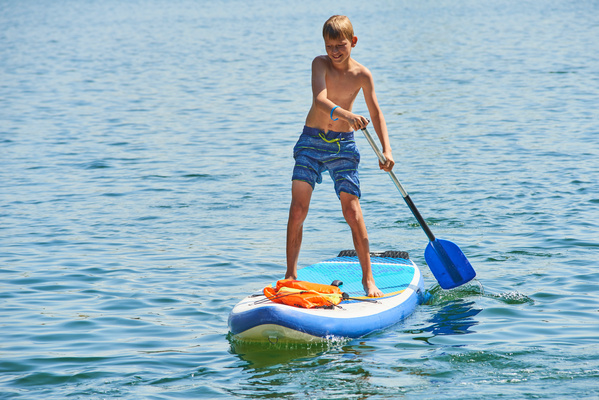 Once you're on the board and feeling steady, it's time to master navigating Oneida Lake! To begin moving ahead, slide the paddle into the water about 2' away, keeping it in a vertical position. Push the paddle backwards through the water toward your legs, then pull it out of the water and return to your original position. To stay on course and avoid drifting too far left or right, alternate strokes between the board's left and right sides.
When you're ready to turn, reach back to slide the paddle into the water closer to the end of your board, keeping your arms straight and using the muscles in your core to twist. The paddle's blade should be fully submerged as you paddle on the right or left side to determine the direction of your turn.
You can also turn while staying still to check in with a family member or friend or take in the view. Use your shoulders to reach forward and push the paddle into the water until its blade is fully submerged. Rotate your torso to create a sweeping motion that extends from the front of the board to the end on the right side to turn right and the left to turn left.
What If You Fall Off the Paddle Board?
The first rule of paddle boarding: everyone falls off sooner or later! There's no shame in falling, especially when you're a beginner. If you can, try to fall off the paddle board instead of onto it – landing in the water is much more comfortable. It's also a good idea to keep a hand on your paddle if at all possible so you won't have to retrieve it later.
To get back onto your board, swim to its center point on either side and find a secure grip. Let your legs float up to the water's surface, then kick as you pull yourself onto the board.
Other Paddle Boarding Tips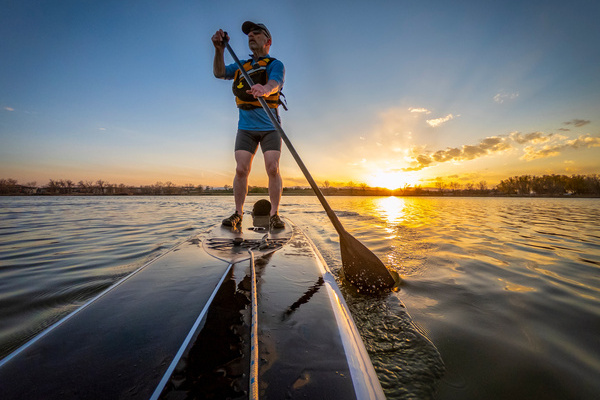 What else should you know before your first time on a paddle board? Keep these tips in mind for the best experience possible:
Always wear a PFD for safety

Beginners should never paddle alone, especially younger kids

Avoid getting too close to other paddle boarders, and stay clear of buoys, boats and other watercraft

Don't worry if you don't feel 100% stable right away – building confidence takes time, and practice makes perfect
Finally, only attempt paddle boarding on a sunny day when Oneida Lake is calm. If you're not sure about water and weather conditions, a member of The Cove team will be happy to help.
Explore Oneida Lake by Paddle Board at The Cove
Paddle boarding is just one of the activities guests can enjoy during a summer vacation at The Cove. From canoes and kayaks to fishing on the pontoon boat included with each weekly stay, there are countless ways to enjoy time with family and friends on Oneida Lake.
To reserve your two- or three-bedroom cottage, contact us today.