Kids' Top Spots for A Day of Summer Fun at The Cove
A summer vacation at The Cove at Sylvan Beach makes it easy to explore all of the family-friendly things to do on Oneida Lake and throughout Upstate New York. Some of the region's best parks, museums, events, and entertainment are just a short drive away. Plus, every cottage comes with a pontoon boat guests can use to cruise Oneida Lake, fish, and enjoy tubing, water skiing and more. Yet you'll also find plenty to do without ever leaving The Cove, especially for the kids. As you plan your stay in Sylvan Beach this summer, make sure to add a day onsite to enjoy these kid-favorite highlights.
Subscribe to Alerts for the Latest Offers from The Cove
Take a Dip in the Pool
Parents and kids alike love a day at the pool. It's a great way for kids to burn off some energy as they make a splash – and for moms and dads to relax! The Cove is home to a heated inground pool exclusively for weekly guests, so it's easy to make a pool day part of your vacation. Our beautiful pool is also the perfect place to cool off after a bike ride around Sylvan Beach on one of the beach cruisers available for rental at Sylvan Beach Supply Co.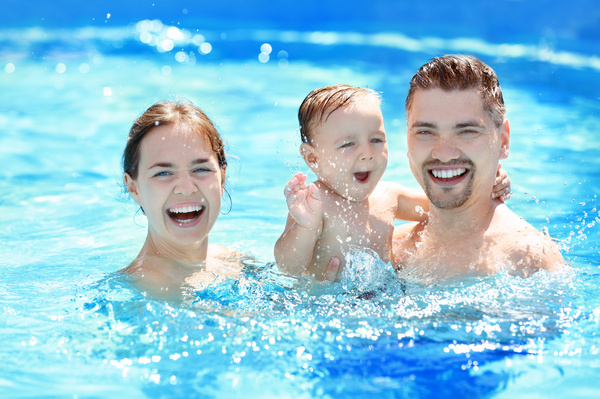 Just grab a few pool toys for the little ones and a book or magazine for adults, and you're ready to enjoy! And don't forget Sylvan Beach Supply Co. has everything you need for poolside fun, from sunscreen to cold drinks and tasty snacks. When lunchtime rolls around, a cafe menu filled with summertime favorites is just steps away.
Run, Jump, and Climb on a One-of-a-Kind Playground
Some of the best summer memories are made on the playground, and kids will find brand-new ways to play with a visit to our Tree-Mendous playground. This one-of-a-kind play place open only to guests offers a variety of elements to inspire imaginative, active play and keep kids entertained for hours, including:
Log pyramid

Monkey climb

Zig-zag balance beam

Stepping stumps

Shelter climb

Swings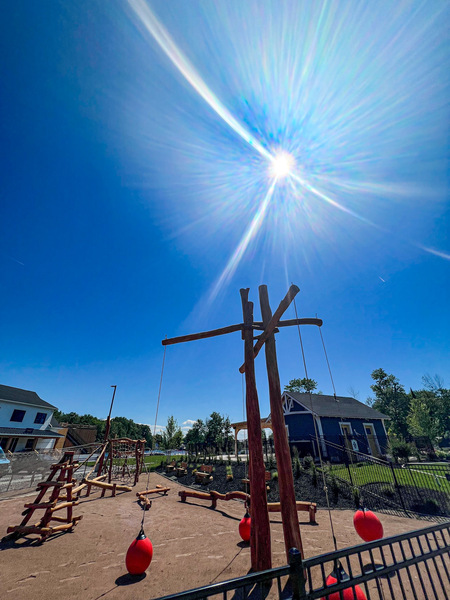 There's also the ever-popular buoy zip line for fast-paced fun zooming along the length of the play area! Kids will have a blast creating their own obstacle courses and making friends as they explore all the playground has to offer. Plus, parents will appreciate ample seating and stroller parking, as well as soft playground mulch and high-quality construction for safer play.
Unforgettable Ice Cream Treats
After a long day of swimming and playing on the playground, there's no better way to cap off the afternoon than an ice cream sundae or other frosty treat from Sylvan Beach Supply Co. The Cove's flagship store has a huge ice cream menu with some of the most inventive offerings around, like Drown Me in Brownie, Breezy Berry Cobbler, Strawberry "Shore" Cake, SOS Mint, and The Campfire. All the chocoholics, fruit fanatics, and candy lovers in your family are sure to find something to enjoy.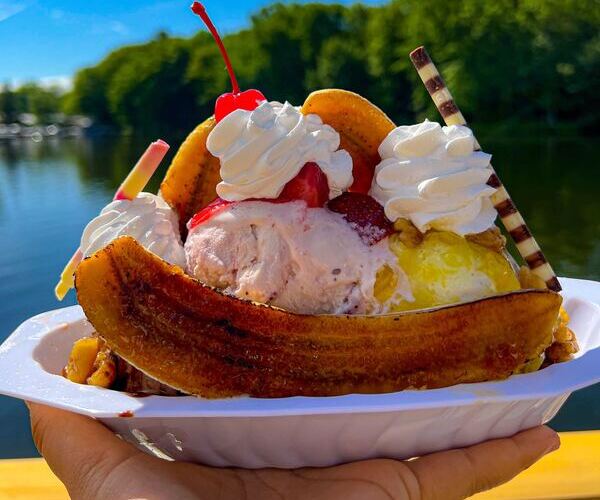 Of course, Sylvan Beach Supply Co.'s ice cream menu goes far beyond sundaes. Guests can also enjoy white caps loaded with candy, classic and creative milkshakes, and 22 flavors of hard and soft ice cream served up with all kinds of toppings to suit kids and kids at heart – try yours in a waffle cone to make it extra special!
The Top Spot for Kid-Friendly Fun in Upstate New York
No matter how your family likes to have fun, kids of all ages will find plenty to love at The Cove at Sylvan Beach this summer. It's not too late to get in on the good times during our first season on Oneida Lake, as cottages are still available for this summer. Don't wait to book your cottage – contact us today to reserve your stay and be part of the fun.