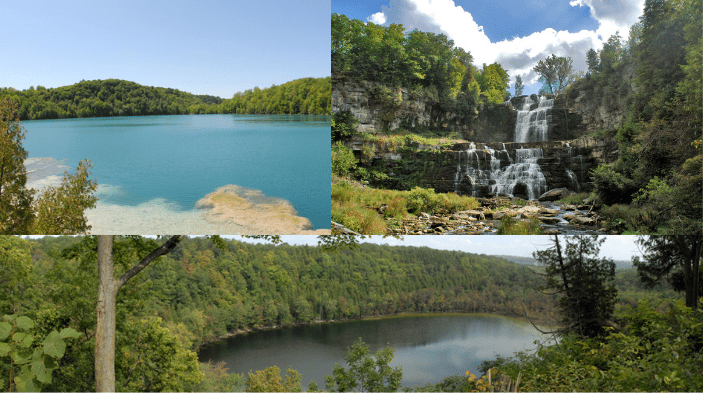 6 Beautiful Upstate New York Parks Near The Cove at Sylvan Beach
There's no shortage of things to do at The Cove. Guests can fill an entire week with pontoon boat outings, fishing, kayaking, tubing and swimming. Yet you'll find some of the best parks in Upstate New York nearby with miles of hiking trails, waterfalls, picnic spots, beaches and more – all within an hour or less.
As you plan your stay at The Cove, be sure to add some of these New York State and county parks near Sylvan Beach to your must-see list.
Subscribe to Alerts for the Latest Offers from The Cove
Verona Beach State Park
Less than a ten-minute drive from The Cove, Verona Beach State Park is home to some of the most diverse aquatic environments in Upstate New York. Visitors can travel the Woods and Wetland nature trail to explore Black Creek, cattail marshes and bottomland hardwood swamps as part of nearly 14 miles of trails throughout the park. A swimming beach and splash pad welcome families on warm summer days as well.

Chittenango Falls State Park
Chittenango Falls State Park is located just over half an hour from The Cove and is home to a stunning 167-foot waterfall sculpted through bedrock formed more than 400 million years ago. The falls can be seen via a viewing platform that's just a short walk from the parking lot or by hiking through fields and forests into the gorge. Kids and adults alike will love spotting the many species of plants and wildlife that live along the trails, and the park includes fishing areas for anglers and picnic spots to enjoy lunch or a snack.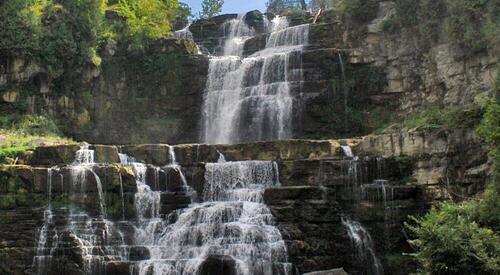 Oneida Shores Park
Why not make a scenic drive along Oneida Lake part of your summer vacation? Travel less than 40 minutes along the southern shore, and you'll arrive at Oneida Shores Park with a sandy, shallow swimming beach on 3,000 feet of lake frontage. Bring along your fishing gear to reel in trout, perch and walleye, or engage in some friendly competition at the park's volleyball courts. The winners get to kick back and enjoy dinner grilled up by the losing team when you return to your cottage!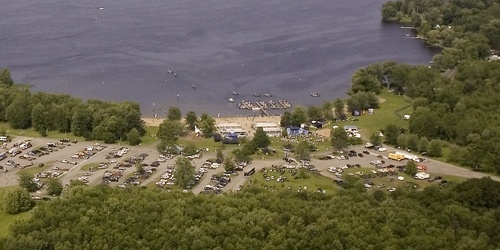 Clark Reservation State Park
Upstate New York is a land of lakes, but the glacial plunge basin lake at Clark Reservation State Park is truly something unique – the upper and lower waters of this rare meromictic lake never mix. Towering limestone cliffs surround the lake along with woodlands, meadows and wetlands at this park located just 40 minutes from The Cove. Guests can explore 5 trails, including a cliff trail that lets you view the lake from 175 feet above. The park is home to more than 100 bird species, including cedar waxwings, kingfishers and woodpeckers, and the lake is populated with pickerel, bullheads and sunfish. A Nature Center available from mid-May through Labor Day also offers engaging exhibits and guided nature walks on weekends.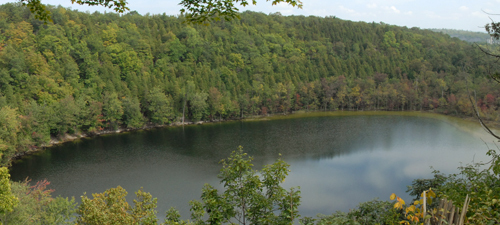 Green Lakes State Park
Two more glacial lakes are found at Green Lakes State Park about 30 minutes from The Cove. Visitors can enjoy swimming in the clear, green-hued waters, and the littlest guests will have a great time at the park's spray-ground. Nearly 20 miles of trails offer hiking for all ability levels and access to a Bird Conservation Area for wildlife viewing. Green Lakes State Park is also home to a disc golf course where you can test your skill with a fun, easy-to-learn game.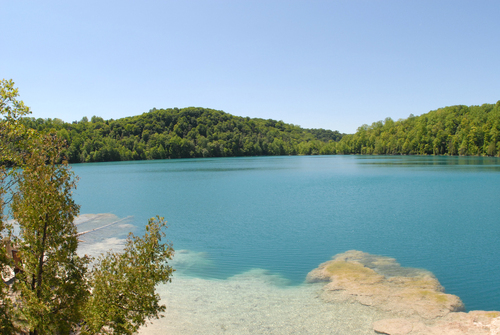 Highland Forest County Park
Situated just under an hour from The Cove, Highland Forest County Park is well worth the drive. The Onondaga County park is often called the Adirondacks of Central New York, and visitors can explore more than 20 miles of year-round hiking trails and over 33 miles of mountain biking trails with a range of difficulty levels. The park also boasts more than 8 miles of horseback trails with equestrian outings offered at hourly per-person rates. You'll want to visit the Pioneer Museum (open 1:00 to 4:00 pm on Saturdays and Sundays, June through August) to check out photographs and artifacts that offer a closer look at the region's history.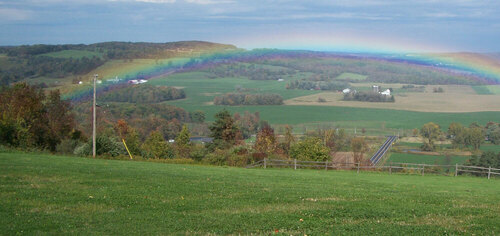 Need more ideas for Upstate New York outdoor activities while staying at The Cove? Explore our blog, Destination Cove, or contact us today for insider tips and must-see destinations.