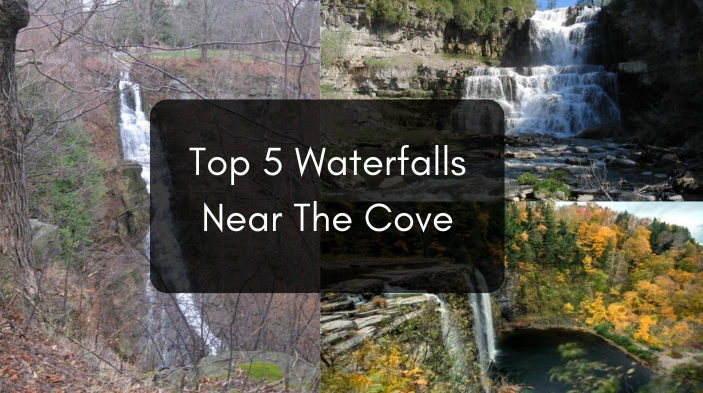 Top 5 Waterfalls to Check Out on Your Upstate New York Vacation
New York State is home to hundreds of waterfalls big and small, and some of the best are right here in the Upstate region just a short drive from The Cove at Sylvan Beach. Many nearby waterfalls also offer spots to hike, fish, and explore, so they're perfect for a quick visit or a full day of outdoor fun. As you plan your week at The Cove, be sure to add a few of these beautiful falls to your itinerary!
Chittenango Falls State Park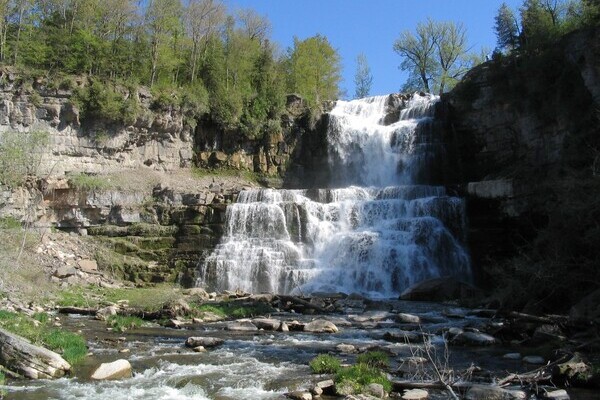 ZeWrestler, Public domain, via Wikimedia Commons
Approximately 30 minutes from The Cove, Chittenango Falls State Park is home to a breathtaking waterfall carved into 400-million-year-old bedrock by glaciers. Visitors can explore a winding gorge trail to see the falls from the bottom, then climb a short trail on the opposite side for a top-down view. The park also offers fishing access and features several hiking trails that are individually less than a mile, so you can customize a path through beautiful surroundings that works for all ages and ability levels. Leashed pets are welcome too!
Three Woods Falls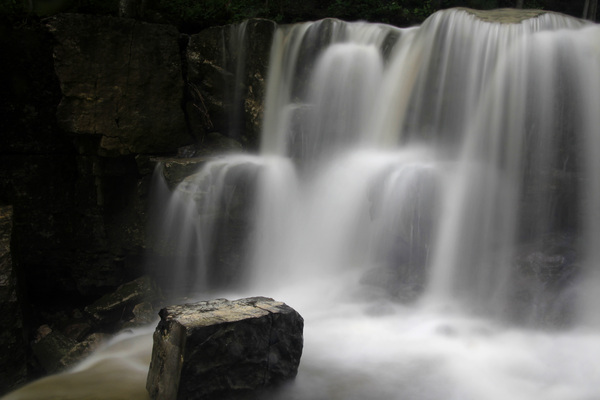 You'll want to devote a day to Three Woods Falls – there are more than 60 acres to explore with three large waterfalls, Staircase, Tall Twins, and Bridalveil, and two smaller falls, Little Twins and Cascade Falls. Early summer is the best time to see the most powerful water flow, but no matter when you arrive there will be plenty of unique geology and natural features to check out. The preserve is home to a vernal pool and pond, plus a striking limestone ledge that overlooks the gorge east of the falls.
Keep in mind that terrain can be rough at Three Woods Falls. You'll want to wear hiking boots or sneakers, and trails are not accessible for bikes or strollers.
Salmon River Falls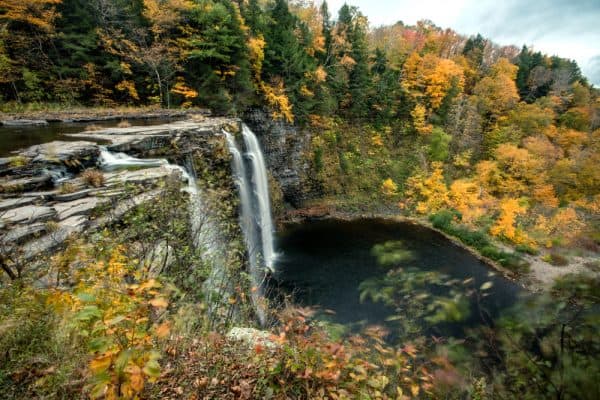 <Antepenultimate, CC BY-SA 4.0 <https://creativecommons.org/licenses/by-sa/4.0>, via Wikimedia Commons
Located in the Salmon River Falls Unique Area, Salmon River Falls stands over 100' tall and can be reached easily via an accessible ¼-mile trail. Follow the main marked trail for beautiful views of the falls and the Salmon River, as well as a pleasant hike through wooded scenery. The Unique Area also offers fishing access, where you can catch smallmouth bass and brown trout in the summer months, and you're likely to see a wide variety of animals who call the preserve home.
Delphi Falls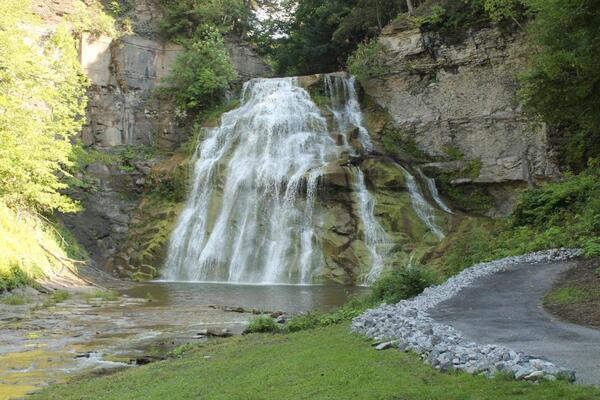 Located in Cazenovia's Delphi Falls County Park, Delphi Falls comprises two waterfalls that stand around 65' tall. Delphi Falls is a popular spot for local and visiting photographers, and you're sure to get some of the most beautiful shots of your vacation here. Best of all, you can reach the falls quickly via a flat, accessible path that's just a short walk from the parking area. There's also a great fishing spot at the base of the falls, so anglers can reel in a catch and enjoy the view.
Pratt's Falls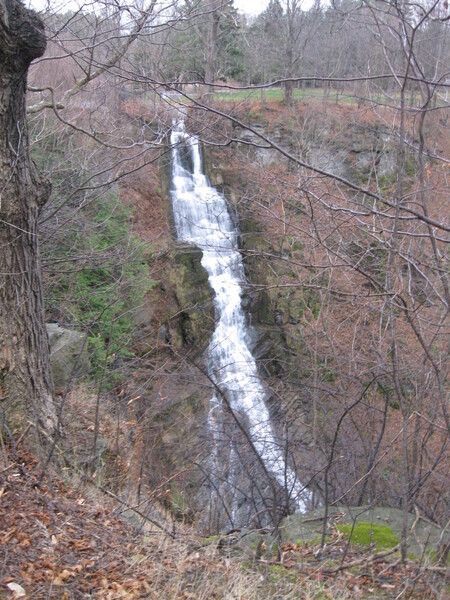 Doug Kerr, CC BY-SA 2.0, via Wikimedia Commons
The site of Onondaga County's first mill in the 1700s, Pratt's Falls is 137' tall and offers breathtaking views from several vantage points. Here's a local secret – head behind the bathroom building for an incredible aerial view! Pratt's Falls Park is also home to a fishing area and picnic area with tables and a grill, so be sure to stock your cooler at Sylvan Beach Supply Co. before heading out for the day. For those traveling with a furry friend, this park is also dog-friendly.
Experience the Beauty of Upstate New York at The Cove
When you stay at The Cove at Sylvan Beach, you're always just minutes away from hiking and bike trails, water activities, and so much more – not to mention great local events, history, culture, and entertainment. It's the perfect place to unplug and experience the beauty of our region with your family and friends.

To book your weeklong stay at The Cove, complete with the use of a pontoon boat and dedicated boat slip, contact us today.