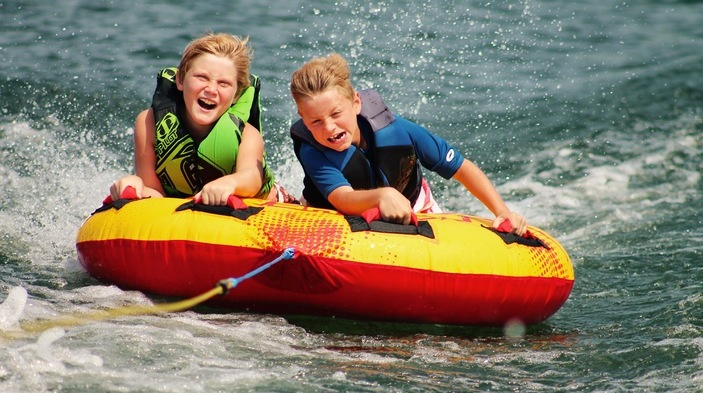 6 Ways to Make the Most of Your Pontoon Boat at The Cove
There are a lot of reasons to get excited about summer at The Cove at Sylvan Beach, but the pontoon boat included with every weeklong rental certainly tops the list. Pontoon boats are easy to use, even for first-time boaters, so you can get out on the water right away. What's the best way to have fun with a pontoon boat on Oneida Lake? Try some of these suggestions to make the most of your boating days at The Cove.
Subscribe to Alerts for the Latest Offers from The Cove
1. Try Water Sports on Oneida Lake
Because of their easy handling, pontoon boats are great for water sports. Stop by Sylvan Beach Supply Co. to check out a selection of water sports rentals like tubes and water skis – we'll be happy to help you find the right gear for your needs!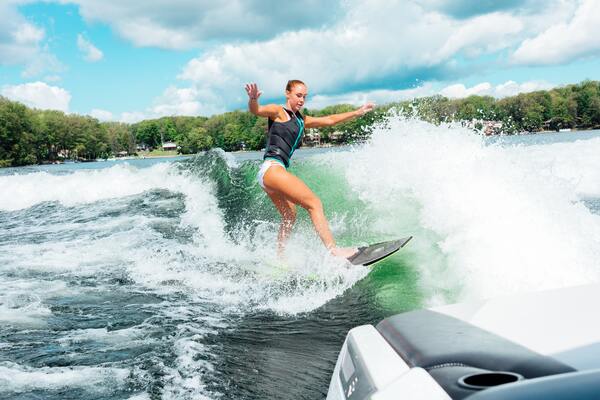 2. Celebrate a Special Occasion
With comfortable seating and plenty of room, your pontoon boat is the perfect place to celebrate a birthday, upcoming wedding, engagement or anniversary with friends or family. Stock up your boat with snacks or a grab-and-go meal from Sylvan Beach Supply Co., cue up a favorite playlist and let the good times roll. Don't forget sweet treats and photo props to really make things special.
3. Experience Oneida Lake Fishing
In 2021, Oneida Lake hosted the Basspro.com Bassmaster Open, but you don't need to be a pro angler to reel in an impressive catch! The lake is home to not just bass, but also perch, walleye and many other species. Fishing from your pontoon boat is convenient and comfortable, and you'll have plenty of room to stow your tackle, other supplies and the fish you catch. Fishing is also a great way to spend quality time with the kids and develop a hobby you can share for years to come. Take your fishing to the next level with a private fishing excursion.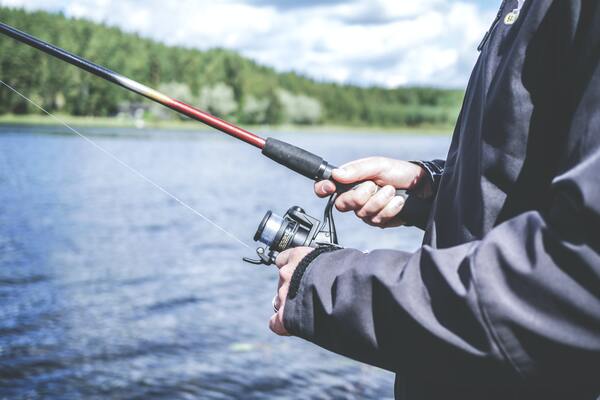 4. Plan a Romantic Picnic on the Water
Putting a fresh spin on date night isn't always easy, but treating your significant other to al fresco dining on the water is sure to impress. Make a grand gesture with a delicious meal served alongside beautiful views, or keep it simple with a selection of charcuterie served with cheese, fruits and vegetables. Here's a tip: add a few special treats to your Off the Muck Market grocery delivery box to bring unique Upstate New York flavors to your outing.
5. Try a Day of Pure Relaxation
It's tempting to plan non-stop activities for your summer vacation to make the most of every minute. Why not slow things down to a lakeside living pace with a quiet day to recharge? Our 20' pontoon boats provide plenty of space for kids to play and adults to unwind during a relaxing day on the water. Ban screen time – or limit it for part of the day! – and spend the afternoon immersed in a good book, soaking up the sun or dozing off to the gentle movement of the lake.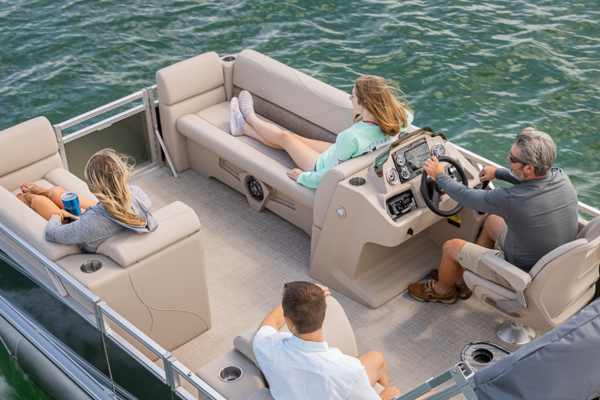 6. Get Competitive with Game Day on the Lake
Who doesn't like a friendly competition? Head out on your pontoon boat to find a good spot for games to play in the lake, like water basketball or volleyball, inflatable cornhole or a good old-fashioned round of Marco Polo. For those who prefer to stay onboard, grab a few card games like Uno or a deck of cards for Crazy 8s. If you're taking an adult crew onto the water, games like Cards for Humanity are a great choice too.
If you've already made your reservations for The Cove this summer, be sure to complete your boater safety certificate before arriving in Sylvan Beach. Still need to schedule your summer vacation in Upstate New York? Reserve your weeklong stay before March 31 to take advantage of our Get a Jump on Summer Package and get a $250 activity credit for use at Sylvan Beach Supply Co.