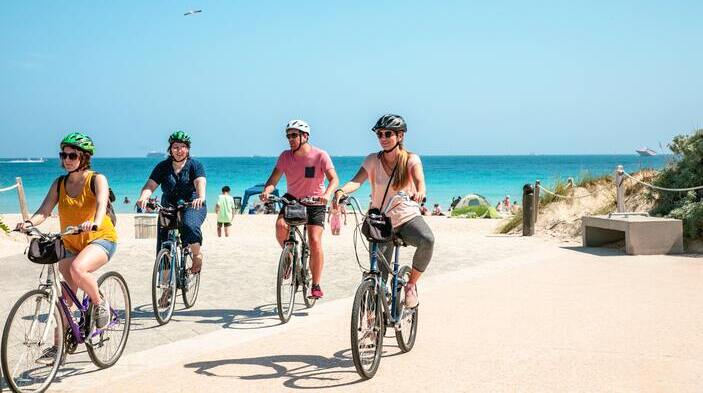 Upstate NY Bike Trails: 5 Historic Trails near The Cove
If exploring by bicycle is part of your dream vacation, there's no better place to spend your summer getaway than The Cove at Sylvan Beach. Nearby bike trails welcome riders of all experience levels, whether you're looking to break a sweat or simply pedal through beautiful surroundings with the kids. Plus, there's no need to load the family's bikes onto your vehicle before taking off. At Sylvan Beach Supply Co., you can rent an easy-riding beach cruiser from Brooklyn Bicycle Co. that's perfect for seeing our region by bicycle.
Subscribe to Alerts for the Latest Offers from The Cove
The Best Bicycle Trails in Upstate New York
To make the most of your visit, be sure to add a few of these bike trails to your itinerary at The Cove. Many of these destinations also offer activities like historic sites, hiking, swimming or fishing, so you may want to plan more than one visit!
The Erie Canalway Trail
The full Erie Canalway Trail stretches 365 miles between Albany and Buffalo, but guests at The Cove will want to kick off their ride at Lock 21, where there's plenty of parking. Cyclists and hikers share the trail, which winds through a variety of active sections of the canal and historic sites for an interesting ride. The trail is 87% off-road and suitable for riders of all skill levels and ages. Lock 21 is only a 15-minute drive away from the Cove (see map).
Verona Beach State Park
Located on the eastern shore of Oneida Lake, Verona Beach State Park offers visitors nearly 14 miles of trail, all of which can be explored by bicycle or foot. These trails are especially inviting for nature lovers, giving you the opportunity to pedal through diverse environments. After your ride, head to the beach to cool off with a dip in Oneida Lake! This beautiful park is less than 3 miles away from the Cove (view map).
Mohawk River Trail
Head to Bellamy Harbor Park to pick up the Mohawk River Trail. This trail offers a shorter ride with plenty of opportunities to enjoy the Oneida Lake waterfront and a stop at the Fort Stanwix National Monument. At Fort Stanwix, you can learn more about the region's important role in the Revolutionary War, including how the Oneida Indian Nation became America's First Allies in the fight for freedom with ranger-led programs and an on-site museum.
Green Lakes Perimeter Trail
Wrapping around Green Lakes State Park, the Green Lakes Perimeter Trail is a 9.7-mile loop that will take several hours to complete. Riders can enjoy beautiful views throughout open fields, wooded areas, beaches, a golf course and more. While not difficult, this trail can be more challenging than others and is recommended for adults and families with older children.
Onondaga Lake Park
Known as The Central Park of Central New York, Onondaga Lake Park spans more than 8 miles of linear greenway with biking on the East Shore Recreation Trail and West Shore Trail. The tree-lined trail runs along Onondaga Lake for a picturesque ride that's easy for cyclists of all skill levels. If you're visiting with little ones, the park's playground and picnic areas offer spots to pause your ride and relax. Interested in history? Make a visit to The Salt Museum part of your day and learn more about Syracuse's history as the Salt City.
Cruising Upstate New York with Brooklyn Bicycle Co.
To ensure our guests can enjoy Upstate New York by bike, The Cove has partnered with Brooklyn Bicycle Co. to provide a selection of easy-to-ride beach cruisers. Brooklyn Bicycle Co. is known for quality craftsmanship and innovative design, as well as a strong commitment to community. These are the same values held by Oneida Nation Enterprises, The Cove's parent company, making Brooklyn Bicycle Co. the perfect partner. Whether you're pedaling Sylvan Beach to explore local shops and eateries or heading out into the wild to take in the natural beauty of our region, bikes from Brooklyn Bicycle Co. ensure you can do so in comfort.
Don't miss out on cycling through Upstate New York this summer – book your stay at The Cove now. For more information about bicycling and other activities, amenities and things to do, contact us today.