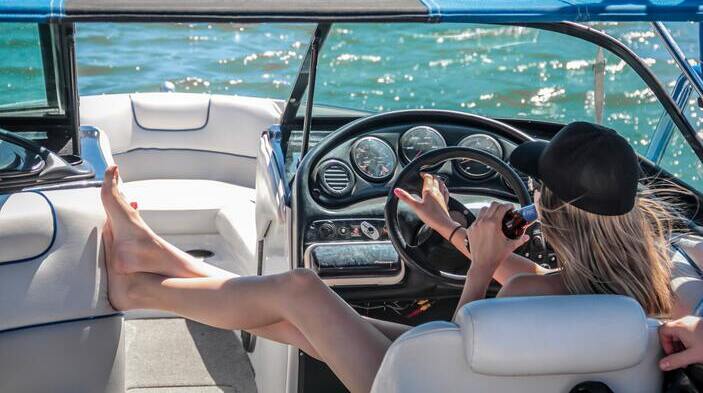 Explore These Hidden Gems on Oneida Lake with Your Pontoon Boat at The Cove
How will you use the pontoon boat included with your weeklong stay at The Cove at Sylvan Beach this summer? Cruising Oneida Lake, fishing trips and water sports are sure to top the list, but your personal watercraft also offers an easy way to travel the lake and explore some of the region's hidden gems. Adding a few of these stops to your days on the water is the perfect way to bring some unique local flair to your Upstate New York summer vacation this year.
Subscribe to Alerts for the Latest Offers from The Cove
Explore Frenchman Island State Park
Oneida Lake is the largest inland lake in New York and home to six islands. Most are private, but Frenchman Island State Park is open to visitors and has a great story. Local legends say that a wealthy French woman and her husband eloped to America to escape her family's disapproval. They built a stately home on the island and remained there for years until eventually reconciling with her family and returning to France. A century later, the island became home to a small resort, where visitors from Syracuse and other nearby cities would travel across the lake to enjoy boating, fishing, bowling, lawn games and entertainment. Frenchman Island eventually became a state park, but was ultimately abandoned until 2008, when visitors were welcomed once again.
Today the park remains a rustic escape where you can dock your pontoon boat and explore a trail cutting through 28 acres of woodlands. It's also home to one of three lighthouses on Oneida Lake, which can be seen from the trail. If you're looking to spend a quiet day in nature, Frenchman Island State Park is the perfect place to direct your boat.
Enjoy Dinner on the Water at Stone's Lakeside
What's better than beautiful views of Oneida Lake? Enjoying the view as you savor a delicious meal with family and friends. There's no need to take out the car – although a drive around Oneida Lake is a great way to enjoy the waterfront and find local gems. Just navigate your pontoon boat toward Stone's Lakeside in Cicero. The restaurant offers boat slips for guests and a menu that features a variety of delicious options. While you're there, try the chicken riggies, one of the most popular dishes in the region.
Three Mile Bay
This sandy-bottomed bay is a great place to drop anchor and enjoy a day on the water. Three Mile Bay is a popular spot for boaters to congregate and enjoy beautiful summer weather for swimming, fishing and kicking back. Start your day with a visit to Sylvan Beach Supply Co. to grab snacks and drinks or rent paddleboards, then navigate toward the western shore of Oneida Lake. Be sure to bring your shades and your sunscreen – if you visit during a busy weekend, you'll want to spend the day soaking up the sun and enjoying the party atmosphere.
Discover Oneida Lake This Summer
What will you discover as you cruise Oneida Lake this summer during your stay at The Cove? When you visit, don't forget to stop by guest services for even more suggestions for things to do and the region's best-kept, locals-only secrets! To learn more about The Cove at Sylvan Beach or to book your stay, contact us today.